After the Birth
Our maternity ward team will also support you in the days after the birth. We will help you recover and establish close contact with your child.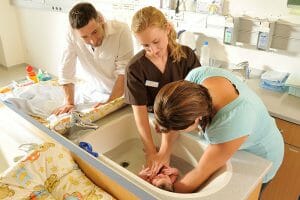 We offer "rooming-in" if you wish to keep your baby with you at all times, but our team members are also available to assist you and provide you time to relax, nap, or freshen up. We will also show you how to care for your baby and we are ready for all of your questions after the birth. Our maternity ward has single, double, and family rooms. If you wish to have a single or a family room you should arrange this with your insurance company. Room availability is also based on capacity.
We try not to wake your baby for breastfeeding or personal care; instead, we work within your baby's natural rhythm. Breastfeeding experts are available upon request and we are very proud of our lovingly furnished breastfeeding room, which allows for the utmost in comfort and privacy. We have baby strollers and baby slings on the premises so you can get out and get some fresh air.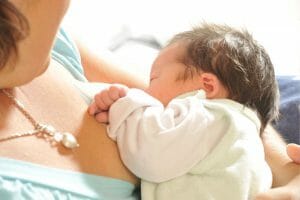 The maternity ward also includes a large, bright sunroom where coffee and tea are available and where you can host your friends and family during all hours. Visitors in your room are invited between 5 – 7pm. Your partner is welcome at any time.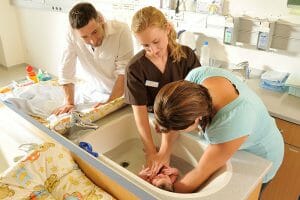 We closely cooperate with pediatricians from the area as far as the 2nd routine well-baby check-up is concerned. In addition, our pediatricians come to our hospital to make their rounds every working day.
If needed a pediatrician is always on call. The ultrasound exam of the hip is performed during the first days of life by the orthopedic specialists of Nardini Klinikum St. Johannis.